The Search for Not Just Smart Wireless Networked Lighting Control, But Brilliant Savings!
Find out more about Network Lighting Control utility rebates and how to search these incentives in your local market.
A Clear Path to Savings with Networked Lighting Controls.

Beyond simply switching to LEDs, lighting controls are a proven effective way to reduce energy usage. Therefore, lighting control technology is attractive to utility providers to reach their energy reduction goals through energy efficiency incentives. Because of that driving need, utilities are now providing incentive programs for networked lighting controls.

LED adoption in the past few years has increased putting more pressure on utilities to find other ways to generate energy savings. One of the main ways programs are looking to generate those savings is by incentivizing the use of networked lighting controls that allow for more dynamic control of lighting and thereby lead to more energy savings.

By 2035, more than a third of installed luminaires in commercial buildings are estimated to have network connectivity (DOE 2016).

Utilities regulators strive to save energy beyond what is required by current energy codes, resulting in their interest shifting to higher-performing LED products and networked lighting controls.

A networked lighting control system consists of an intelligent network of individually addressable luminaires and control devices. Advantages of a lighting control system include cost-effective application of multiple control strategies, programmability, building/enterprise-level control from a single point, zoning/rezoning using software, and measuring/monitoring.

NLC Rebates: Where are NLC rebates today?

Network Lighting Control (NLC) rebates are increasing throughout the country with growing incentives. Most utility programs that incentivize LED technology will also incentivize lighting controls, but the types of lighting controls that are incentivized and how they are incentivized vary greatly.

This map shows the territories where NLCs are specifically offered, but for those not featured, it is available through custom programs.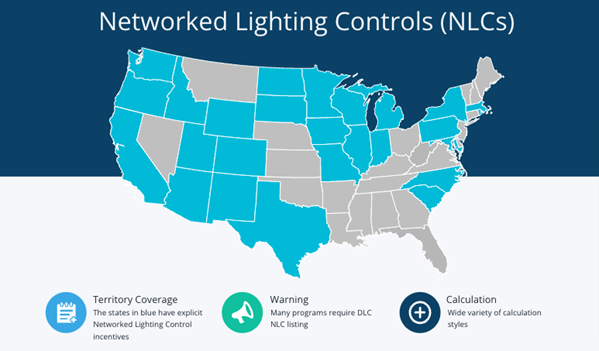 Network Lighting Control Categories

Yes, the DLC covers Networked Lighting Controls, which is just one category in many categories of incentivized lighting controls.

The DLC's Networked Lighting Controls QPL identifies systems that are eligible for utility rebates and incentives by meeting minimum DLC Technical Requirements. Containing 22 categories of both required and reported system capabilities, the QPL also serves as a product comparison tool for architects, specifiers, engineers, and contractors. Key required capabilities include individual fixture control using a true networked control system, reconfigurable zoning, scheduling, daylight harvesting, and motion sensing.

Synapse goes a step beyond our DLC NLC 5.0 qualification with wireless control which reduces the cost of implementation and makes scalability a snap.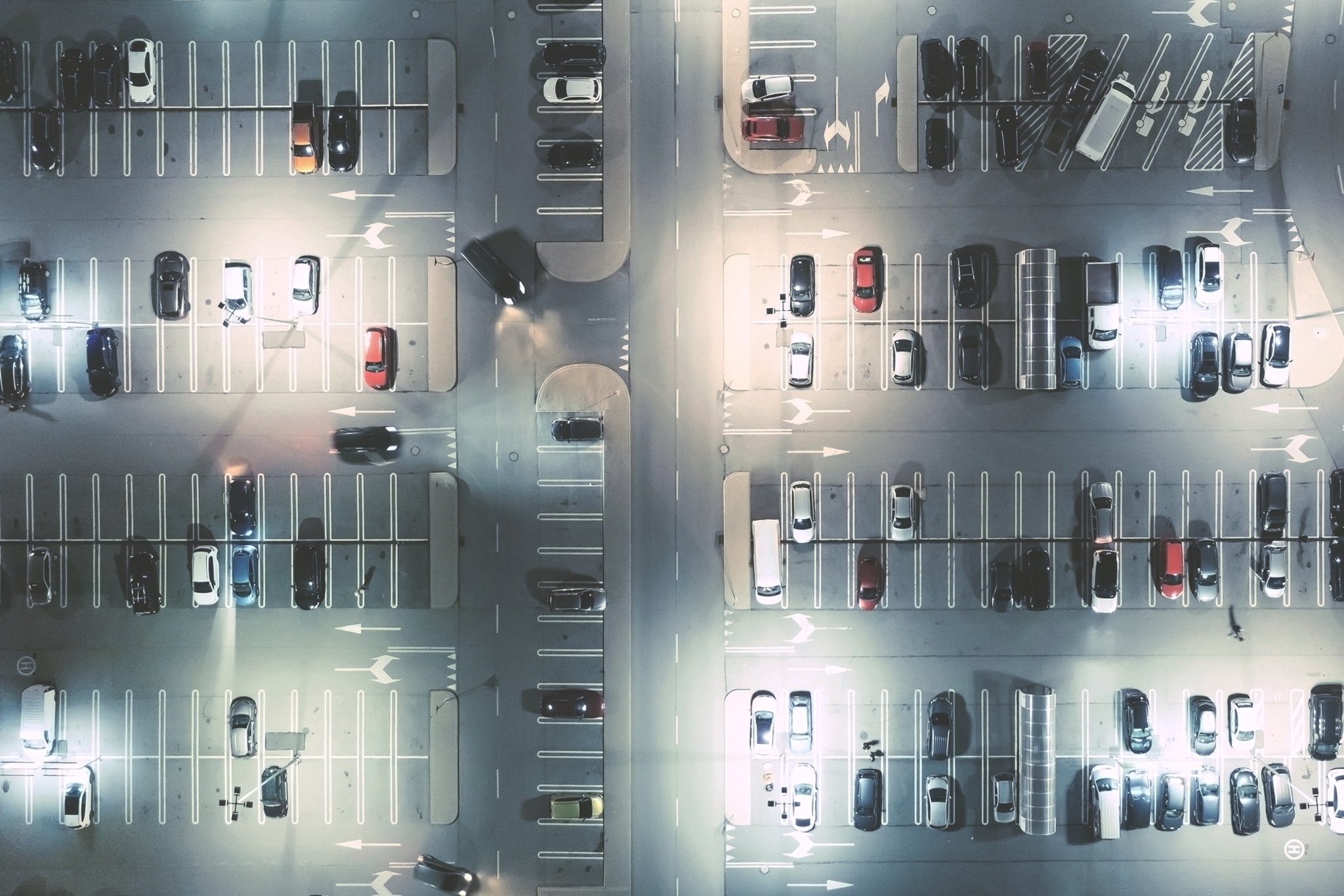 Finding NLC Rebates in Your Area

The problem? Networked Lighting Control (NLC) rebates are hard to find, and often dependent on your state, zip code, even your utility provider. Beyond that, when looking for an NLC rebate customers would often have to know what details their utility provider used to make their decision. Project wattage, usage, lighting controls type, and utility provider can all play a part in available rebates.

All of this was too complex, too difficult to understand and far too difficult to navigate — sometimes, even for our expert sales team. So, we did what we do best and made the complex easy by creating our industry-first online networked lighting control rebate finder.

We didn't want to replace this complex process with something equally difficult to use — that's not who we are — so we designed our rebate tool to not just save you money, but to also save you time.

What are examples of lighting control approaches covered by rebates?
Occupancy/Vacancy
Daylighting
Photocell
Bi-Level Switch
Timer/Clock (Yep, still covered by some utilities)
Network-enabled Capabilities - Networked Lighting Control Systems
Networked Lighting Control approaches are often considered the new kid on the block but rising in popularity.

How do utility companies approach NLC incentives?

For Networked Lighting Controls there are a number of approaches employed. The primary approaches are:
Per Fixture Bonus: Each fixture that is controlled by an NLC system receives an extra rebate.
Watts Controlled: The incentive is calculated based on the number of watts that are controlled by the NLC systems.
Square Foot: The incentive is calculated based on the square footage that the NLC system addresses.
LPD: The incentive is calculated based on how much better the installed lighting is than code, assuming NLC is present in the system.
Custom Energy Savings: Calculate the energy savings from the NLC system, generally including the sensors and the incentive is based on the kW and/or kWh saved.
Using the Synapse NLC Rebate Tool

We built SimplySnap (and our rebate finder) for control freaks — because we are too — so if you want to dive even deeper into your facility's specific use case, we offer advanced options. You will find this menu on the left of the page, so you can get the result you are looking for.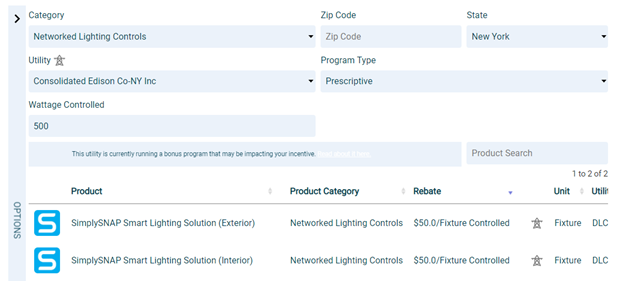 In just a few steps you're able to find the rebate that's right for you.

1. Step one: enter your facility information.
Category — Networked Lighting Controls, this covers all your SimplySnap product needs from our wireless networked lighting controls systems.
Zip code and State — we give you the opportunity to start your search either with your state or immediately narrow to your exact zip code to give you as much control and granularity as you need.
Utility company — select where you get your power. Many rebates come down to a local utility provider, as opposed to statewide programs offering facilities incentives to cut down on energy usage.
Program type — prescriptive.
Wattage controlled — how much wattage is being controlled by SimplySnap. Some programs provide different incentives based on how much wattage your lighting controls oversee.
Here you can set your facility's annual usage hours and choose the criteria you sort results by.

2. Step two: Select your application type, either indoor or outdoor.

3. Step three: Find your Network Lighting Control utility rebate. It's that simple.
A Clear path to Your NLC Rebates and Incentives

Automatically, once you fill out the necessary fields, we find the qualifying NLC rebates available for your project. The final rebate decision is always up to the local utility provider, of course. You can select the type of product you're implementing at your facility — Interior or Exterior — and find details about each qualifying networked lighting control system. We've also included options to further refine your savings. Some NLC rebates will be based on usage; other utility providers will provide flat rebates based on project size, or equipment type.

Saving money is important, and with our NLC rebate tool, SimplySnap is now even better at helping you achieve your ROI goals.

Simplify and speed up your journey to finding Network Lighting Control rebates for your energy efficient projects here.