SimplySnap Wireless Network Lighting Controls - A Comparison
What are the key differences between Bluetooth Mesh and SimplySnap? Learn more about network lighting control features, capabilities, and advantages.
Like light itself, lighting controls exist on a spectrum each offering varying levels of control and adaptability.

For decades, if discussing lighting controls, you would be talking about fixture-based controls — modules put in place at time of installation that gave the user fixed benefits. Many of these functioned as simple occupancy sensors, motion controls, and switches.

Importantly, these lights couldn't be treated as a group and would all operate separate from each other.

With a transition to LEDs these controls can save on your energy costs but will still be limited by the functionality offered upon installation and lack the transformational benefits of a true networked lighting controls system.

On this spectrum of lighting controls, fixture-controls offer set-and-forget simplicity but lack the ability to reveal the vital, cost-saving insights networked controls provide.

When Lights Combine: Wireless Networked Lighting Controls

As you move along this spectrum of lighting controls, you begin to add features, small groups and app-based controls give you more control of your lighting. They remain tethered to onsite networks and require the user to be physically present at the facility to make adjustments.

These simple systems may be achieved through the addition of Bluetooth Mesh connectivity to your lights. If you find yourself saying "Bluetooth, isn't that in my phone?" You aren't alone.

Bluetooth has become synonymous with wireless systems, it facilitates headphones, car audio and short-range communication between devices. Users are familiar with its applications, and limitations.

This familiarity with the technology has driven both consumers and lighting controls providers to adopt the technology, but Bluetooth Mesh systems were not designed for outdoor or large-scale industrial applications.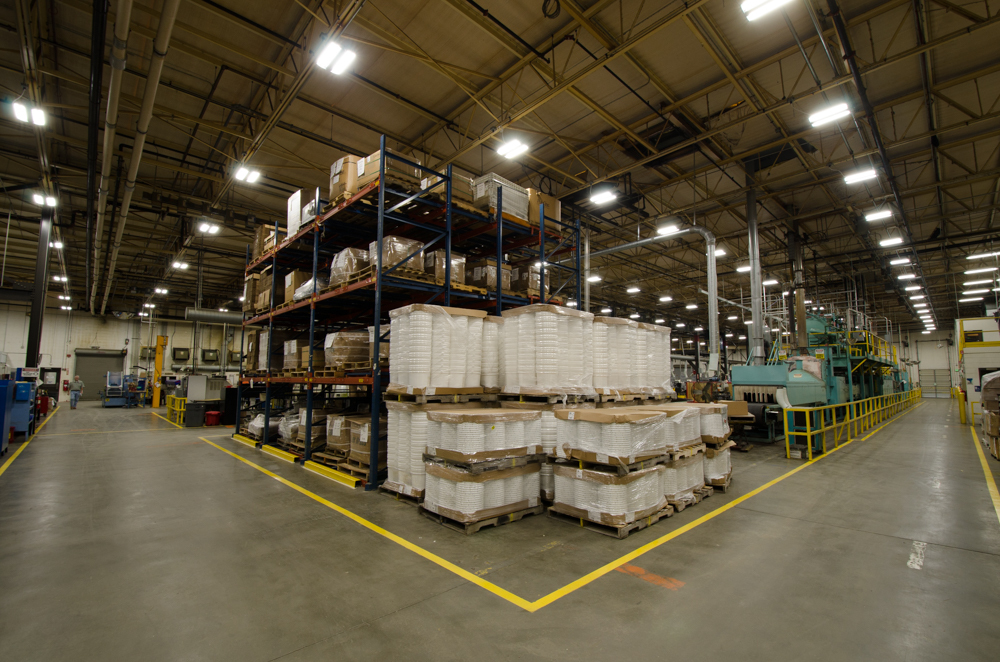 The Limitation of Bluetooth

The benefits of Bluetooth are meaningful for many applications that need room based controls and want to replace older fixed-based controls. The ability to configure and control groups of lights locally is great for certain applications, but not all lighting applications are a good fit for Bluetooth Mesh based controls.
Scale and range are both significant challenges for Bluetooth Mesh systems. Large Bluetooth Mesh systems claim hundreds or even thousands of end points in case studies and success stories, but in reality they are many many smaller groups of lights and sensors that are isolated into more manageable size groups, areas, or rooms.
Many Bluetooth Mesh control systems claim that they do not require gateways, but this limits remote connectivity and control, energy reporting capabilities, and integration options with BMS or Demand Response systems. That type of control system may be fine for some smaller lighting applications, but gateways provide very important and valuable features for larger commercial and industrial lighting applications.
The limitations of the technology mean that it lacks the ability to scale beyond small, largely commercial applications or limited high bay installations. By the numbers, Bluetooth can't go the distance for industrial applications.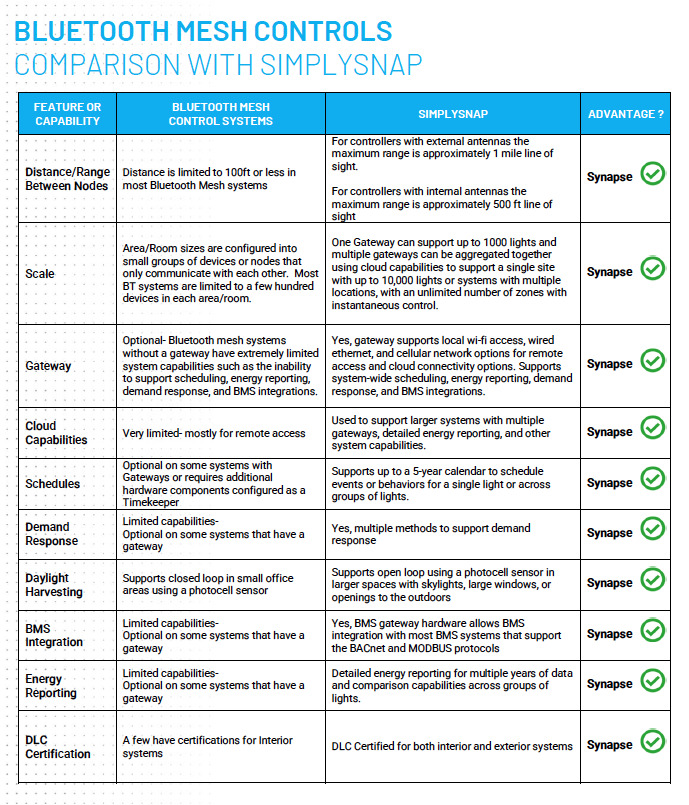 Transformational Lighting Controls

Many lighting controls providers utilizing Bluetooth have attempted to add many of the features standard with the SimplySnap mesh-based control system from Synapse. These have manifested in costly add-ons but rarely provide the same integration that a true IIoT application can.

With Bluetooth, much of this additional control requires proprietary mobile applications and lacks the full user-friendly ability to control your lights from multiple locations, and you can forget about multi-site applications. The connectivity offered by the Synapse mesh network in SimplySnap wouldn't mean anything if the system didn't utilize it properly.

SimplySnap takes advantage of the increased range, node density and logical channels to offer benefits that give you the insights necessary to gain more control of your energy use. Our mesh can go beyond your lighting. Through our controls platform, you gain access to additional tools to save energy, providing insight into equipment health and more advanced insights into your lighting usage.

All, while allowing you to manage your facility's lighting from anywhere in the world, without the need to forgo the security your facility requires.


Learn how you can harness the power of SimplySnap in your next lighting application here.
Checkout the SimplySnap overview video library here.
Explore SimplySnap case studies here.
Download the Bluetooth vs. SimplySnap Mesh Flyer here.