Synapse Wireless Inc. Premiers Online Lighting Management Course for SimplySnap Platform
Synapse University, Powered by BlueVolt, Offers Free Online Courses
Synapse University is available today. View the full course catalog by creating a log-in. Read further and access Synapse University online training today https://go.bluevolt.com/Synaps...


Huntsville, Ala. (Sept. 12, 2022) - Synapse Wireless, Inc., an Internet of Things (IoT) company, today announced the premiere of Synapse University featuring the company's first online course for Lighting Management.
Synapse University offers an interactive 12-minute course on SimplySnap Lighting Management Solutions. The course introduces SimplySnap Lighting Management Solutions and its applications, while additionally identifying the benefits and technology behind the wireless networked lighting control solution from Synapse. The interactive course reviews product differentiators and problems lighting control solutions solve.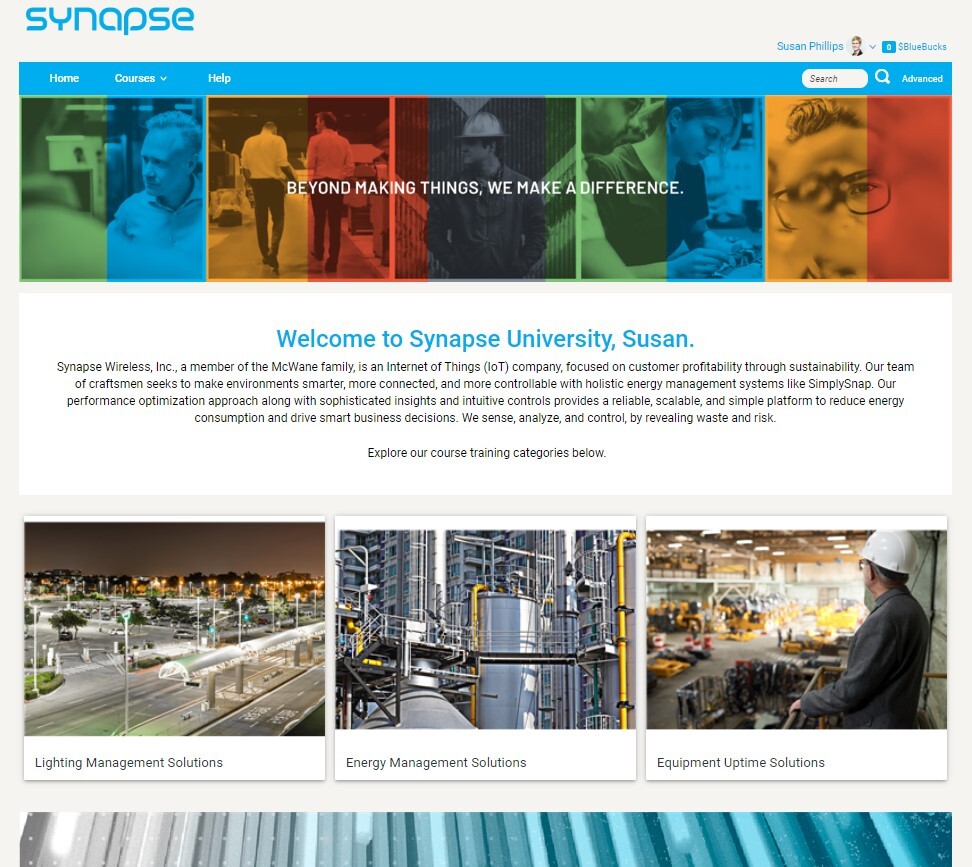 "Having a new online university is great news for our customers and lighting channel partners. Our lighting platform, SimplySnap, has changed a great deal over the last two years, and we wanted to create an easy way for luminaire manufacturers, manufacturer representatives, and lighting designers to discover the new capabilities and the problems our platform solves," stated Susan Phillips, Director of Marketing. "Additionally, our platform has expanded beyond the lighting solutions, to now offer solutions to problems that exist in manufacturing applications, such as energy management and improving equipment uptime. The brand-new university provides a means for creating engagement, support, and awareness – key initiatives of our company."
Synapse University utilizes BlueVolt, the leading provider of Learning Management Systems for construction, manufacturing, and service industries. The university features courses around three solutions: Lighting Management Solutions, Equipment Uptime Solutions, and Energy Management Solutions. Topics include SimplySnap Lighting Management, How SimplySnap Works, Energy Insights, and How to Pinpoint Energy Waste. Support materials and resources are provided for reference including spec sheets, white papers, videos, and component-level courses.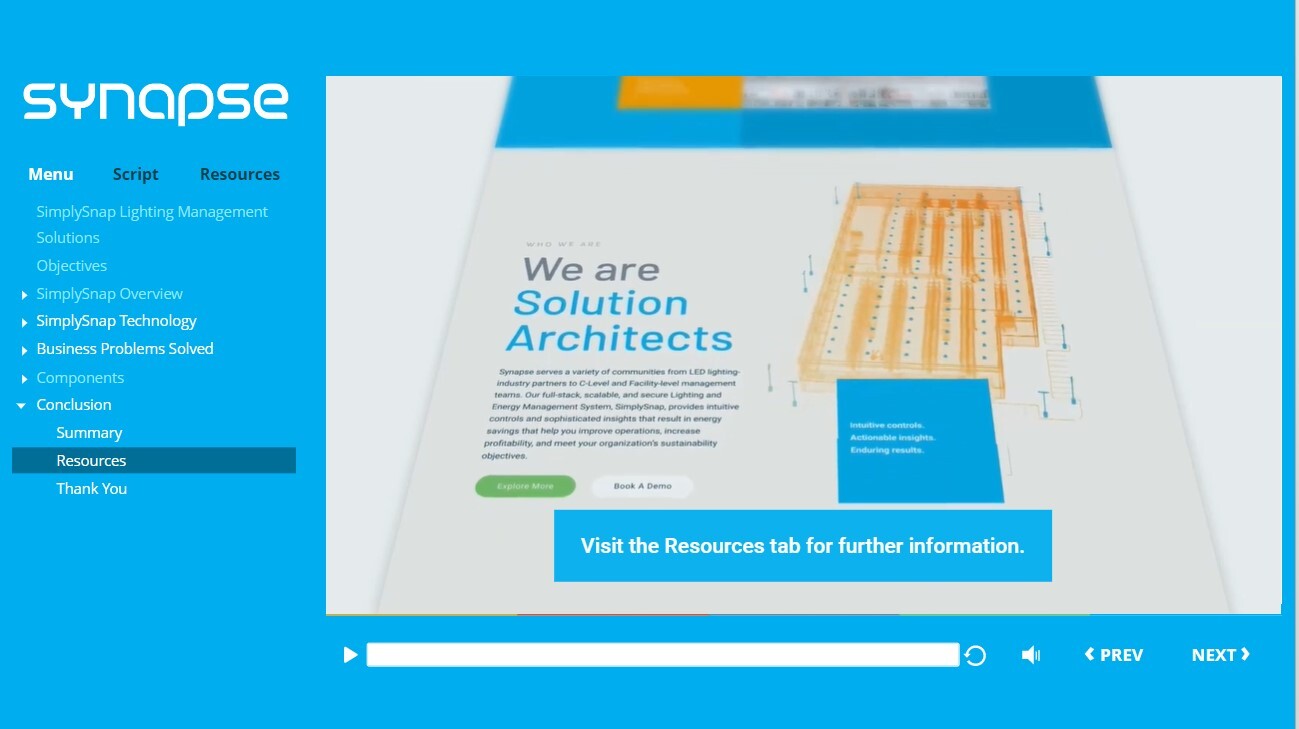 Phillips continued, "Our Industrial Internet of Things (IoT) platform, SimplySnap, is ushering in the next era of lighting control technology, where digital lighting control and integration with industrial applications will provide end-users the capabilities to meet their desired business outcomes. Synapse University, powered by BlueVolt, gives us the ability to provide training for a variety of audiences. We strive to create courses which reflect our strong commitment to our customer training efforts and further enhance the communication channel with our partners."

"Synapse Wireless joining the BlueVolt network is an honor – we're thrilled for the opportunity to serve as the conduit to help syndicate new and future product training to Synapse partners," stated Tom Rangner, VP for BlueVolt.
"Training is crucial to adoption of new technologies, within organizations and within sales channels. With energy conservation being an important topic in today's world, having Synapse Wireless connected lighting solutions content available to distributors, associations, and end users via BlueVolt will help grow the demand for optimizing industrial facilities to practice sustainability. It's an honor and a privilege to be part of such an exciting time in the lighting industry."
Synapse University is available today. View the full course catalog by creating a log-in at https://go.bluevolt.com/Synaps... auto enroll in the new Lighting Management Solutions course with this direct-to-course access link: https://go.bluevolt.com/Synaps....
About BlueVolt
Portland, Oregon-based BlueVolt is the leading provider of online Learning Management Systems (LMS) for the manufacturing, construction and service industries. BlueVolt's LMS for the extended enterprise delivers easy-to-use training across an entire company and its suppliers, sales channel, associations and customers. The LMS delivers affordable training, verifies knowledge and reports results all in one place. BlueVolt's unique approach to online training encourages learning with its proven reward program that is valuable to those offering and participating in learning. As of March 2013, BlueVolt has delivered more than 1,847,000 courses to over 280,000 registered users. BlueVolt has won a Gold Excellence in Technology award from Brandon Hall, a Learning Leader award from Bersin & Associates for Vendor Innovation in Learning and Talent Management and was recently named a Top Workforce Development Provider by TrainingIndustry.com in addition to making their third consecutive Learning Portal Companies Watch List for the company's innovative approach to eLearning. For more information, visit http://www.bluevolt.com.
About Synapse Wireless Inc.
Synapse Wireless, Inc., is an Internet of Things (IoT) company, focused on customer profitability through sustainability. Our team of craftsmen seeks to make environments smarter, more connected, and more controllable with holistic energy management systems like SimplySnap. Our performance optimization approach along with sophisticated insights and intuitive controls provides a reliable, scalable, and simple platform to reduce energy consumption and drive smart business decisions. We sense, analyze, and control, by revealing waste and risk. Learn more on synapsewireless.com, Facebook, LinkedIn, Twitter, and YouTube.
For more information contact info@synapsewireless.com.